"Rebuilding The Wall On My Terms"

Is the title of the series of quilts that I created. After spending 15 years in self exploration breaking down the wall I put up as a defense mechanism. I realized that I needed to build the wall back up slowly on my terms. It was to protect myself from certain people and certain life situations. I needed to visually rebuild the was I had spent so much time breaking down. So I did it with what I know best and feel safest with, thread and fabric. The basic idea, inspired by a dream, was started in the summer of 2003.

While I was creating the first piece, many other images and issues were surfacing, This happens to me often as I work. I usually try to put those images in the piece I am currently working on. This time, however, I felt I had too much to say for just one piece, so this is how the "Wall" series was born.

Each quilt has a different theme, but it also has repeated images which represent specific elements.
redhead girl = me as an adult
brick wall = strength, structure, repetition
flowers & plants = growth in my life
corn stalks = Southern Illinois
purple door = people can enter, but only if I wish them to
tiny girl with long blond hair = my inner child
fence = security, protection

Title:
Rebuilding The Wall on My Terms
First
quilt in the series
size:
24" x 26"
theme:
protecting my self
using the tools I have to feel safe & in more control
celebrating my new life
This quilt is on Permanent Collection at the:
Evansville Museum of Arts, History & Science
Evansville, Indiana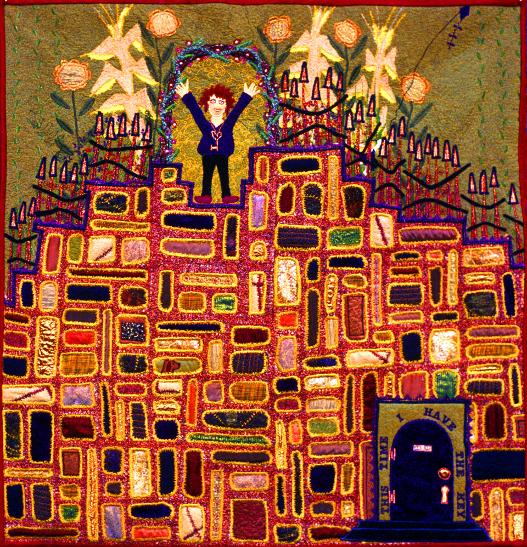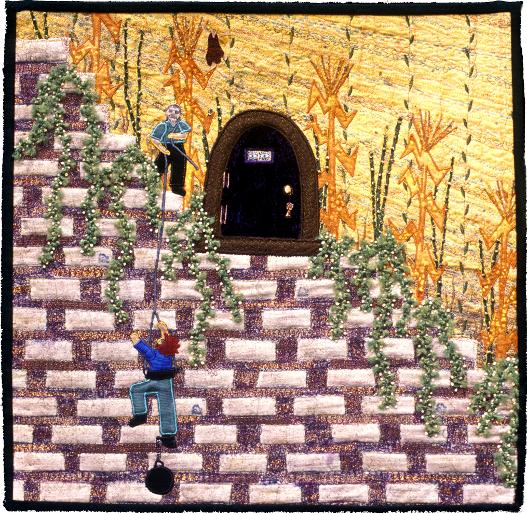 Title:
In Search for Middle Ground

Second
quilt in the series

size:
20" x 20"

theme:
looking for the balance in life

facing fears

having courage

ball & chain = my burdens

Title:
Another Visit From My Folks
Third
quilt in the series
size:
23" x 25"
theme:
the tornado is the chaos in my life
shows even the smallest contact with certain people causes severe emotional hangovers
alcoholic dysfunction
this is what needy self absorbed beings can do to a sensitive soul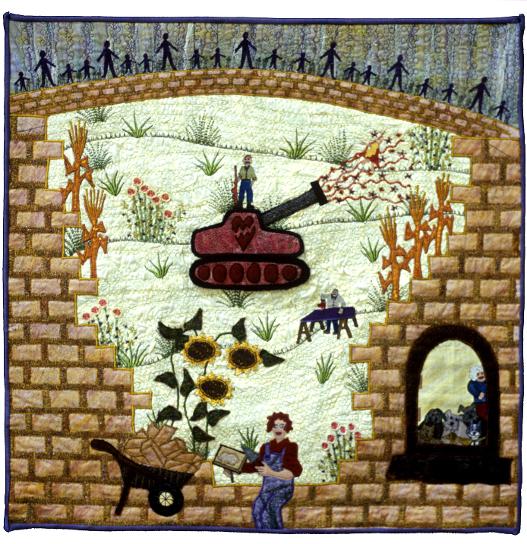 Title:
Watching My Back

Fourth
quilt in the series

size:
25" x 25"

theme:
regrouping

repairing the damage from the tornado

going back to the basics

healing my wounds

tightening up the security
bring in the reinforcements
(the safe people in my life)

Title:
Dreaming, Wishing, Grieving
Fifth
quilt in the series
size:
40" x 28"
theme:
11 years of dealing with infertility (doctors, tests, procedures)
disappointment
depression
grief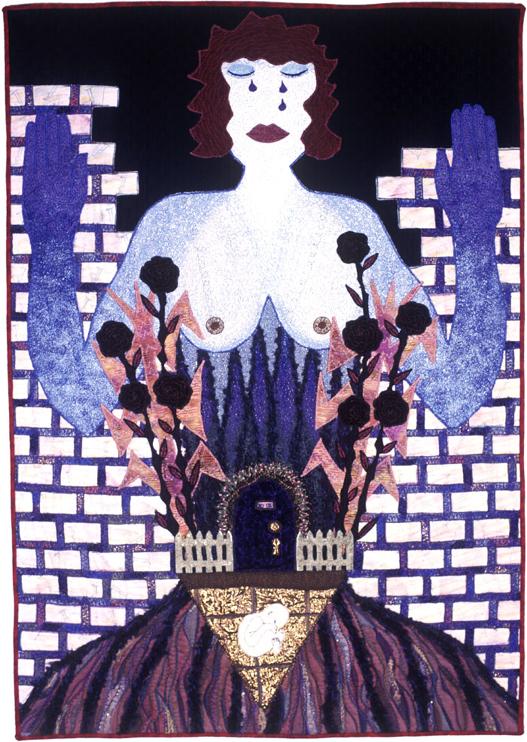 Title:
Torn

Sixth
quilt in the series

size:
24" x 29"

theme:
The big question, YES or NO.

We had given up trying to have a child and decided to go on with our lives. Several years later at a family funeral we were told someone's friend was having a baby boy that day. They where putting him up for adoption. The parents that were going to adopt backed out and if we wanted the boy, he was ours. We had 5 hours to decide. We decided to not take the child, this decision tore open a gaping wound in our lives that took years to heal.

Title:
Welcome to My World
Seventh
quilt in the series
size:
23" x 25"
theme:
Healing of my inner child
Playing
Finding my joy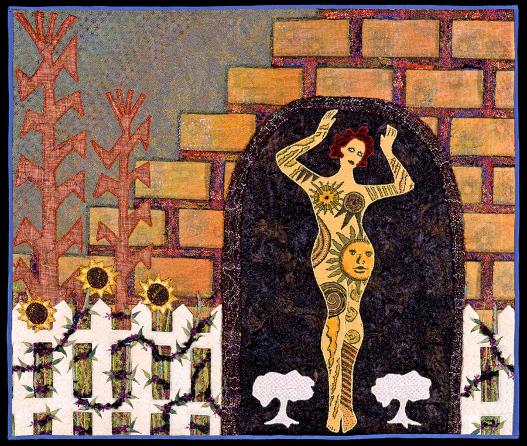 Title:
Laid Bare

Eighth
quilt in the series

size:
26" x 22"

theme:
Total Exposure

Being vulnerable

Title:
My Creative Vision Leads Me Out
of the Darkness
Ninth
quilt in the series
size:
33" x 23"
theme:
Tribute to my talent
Gratitude for my vision & the skills to execute my voice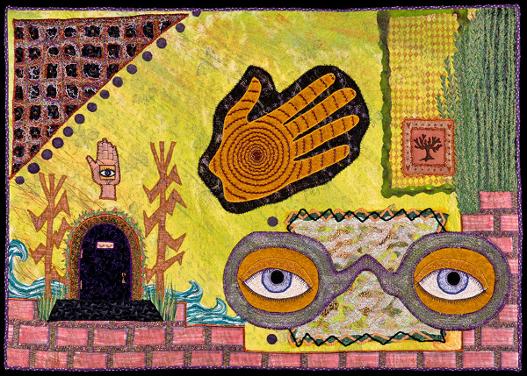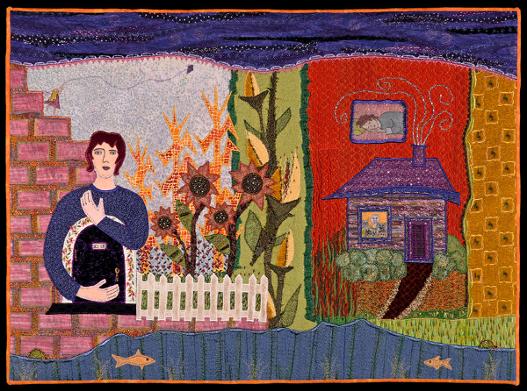 Title:
To Heal Your Body
You Have to Heal Your Heart

Tenth
quilt in the series

size:
33" x 24"

theme:
Tribute to my home, husband and animals

It's where I feel safe and warm

Embracing my vulnerability

My Creative Process for the

"Rebuilding the Wall On My Term's"



I do collage journaling in altered books. Images are inspired from dreams, drawings, pictures, quotes, song lyrics, One never knows. With these images and ideas I go on to design my quilts. I then do a life size drawing of my quilt. From that life size drawing I can add to or cut apart to use as patterns. I do my basic color study in the collage process, but I also might color the life size drawing in sections to see if I like the proportion and coloring. This is not a blueprint, and I may alter the quilt quite a bit from the life size drawing.

My quilts are really paintings with thread, markers, colored pencils, stamping and bits of fabric, They are highly textured. On the average 90% of the quilt is covered with thread. I do layers and layers of rayon thread work in different colors and different stitches to create the textured effect. I usually machine quilt sheets of fabric and then cut out the shapes I need from that sheet. They are then appliqued onto my quilt. All of my fabric is backed with a light quilt batting and medium to light weight stabilizer