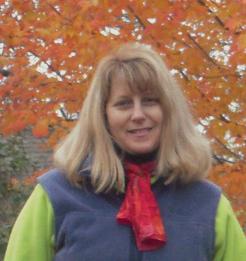 Karen
Linduska
Fiber Artist
Teacher
Author
Ever since I was a little girl I was always making something. I started doing fiber work at the age of eight making doll clothes and knitting. At the age of ten I started to do bead work and hand embroidery. In high school I was lucky to have an art teacher with a fiber arts background who helped me to branch out and explore new materials. I developed my discipline for detail and the long hours that fiber art requires while working on those high school projects. After high school I attended the Southern Illinois University at Carbondale majoring in fiber arts, studying under M. Joan Lintault. It was there that I was encouraged to explore even more techniques, materials, and ideas. I created the foundation of my style during these years, that is still recognizable in my work today. During the past thirty five years I have received numerous awards and recognition for my work which has been exhibited in publications, TV, art fairs, galleries and private commissions all over the United States, Japan and Europe.
Today I make my home in the beautiful hills of southern Illinois, with my husband and many four legged kids


Galleries
River Gallery - 400 East Second St. Chattanooga, TN
Museum of the American Quilter's Society-Gift Shop 215 Jefferson St. Paducah, KY
Galesburg Civic Art Center - 114 E Main St. Galesburg, IL
Visions Art Gallery & Studio located on the Historic Boardwalk Makanda, IL
Pack Rats Paradise -220 S. Front St Cobden, IL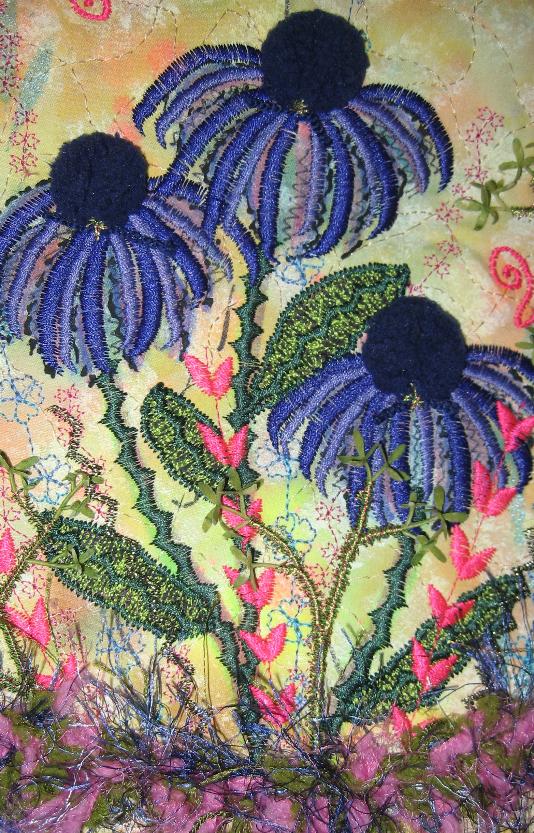 Teaching
In 2009 I was ready to start sharing my process. I was invited to teach at a local quilting shop. This gave me the opportunity to focus on the "how to" of teaching this process. I had to break down every step, so I could explain this technique that I created. Soon I began teaching my decorative stitch thread painting technique at quilt festivals, quilt stores and quilting guild throughtout the USA. Teaching has been a wonderful experience, I love the idea of sharing the knowledge.



Check out my classes in the CLASSES menu




TV Shows
Sewing with Nancy - PBS 2 part series that features my "Decorative Stitch Thread Painting" technique Episodes 2321 & 2322
Sewing With Nancy - PBS Segment on Nancy's Corner Episode 2420
Quilting Arts TV - PBS "On Location" with Pokey Bolton at the Chicago - International Quilt Festival - 2009 Episode 501
In Focus - WSIU - PBS 10 minute segment on "Rebuilding The Wall On My Terms" a series of 10 art quilts on spiritual recovery
Expressions - WSIU PBS 28 minute interview with Najjar Abdul-Musawwir

Publications
Quilting Arts Magazine
June/July 2009
"In the Spotlight" article and quilt photo on the cover
American Quilter Magazine
series of four articles starting January 2011
Quilting Arts In Stitches E Magazine
"Creating Depth with Layered Decorative Stitches"
SAQA Journal article by Lynne Davis
"Rebuilding The Wall On My Terms"
"Decorative Stitch Thread Painting"
co-authored with Nancy Zieman
Plus many featured articles from local newspapers